Working
at AHT
A cool place to work

People at AHT
What makes the products from AHT so special? It is the people behind it who, with their ideas, their know-how and their passion for refrigeration technology, make AHT products possible in the first place and also ensure reliable, global internal and external service. Our more than 1,600 employees are not only characterized by their humanity, they are reliable, consistent and innovative. This is also reflected in our products, which we support over the entire life cycle.
Discover job vacancies at AHT
With its corporate headquarters in Rottenmann in Styria and numerous foreign branches, AHT is one of the leading international companies in the field of commercial refrigeration and freezing for the food industry. Would you also like to help shape the international success of AHT?
AHT a member of DAIKIN
"The absolute prerequisite for the success of a company lies in the energy and enthusiasm of the employees" – Minoru Yamada (CEO Daikin 1972)
AHT has been part of the parent company DAIKIN for over two years. Together we are treading a promising path with the aim of becoming the global No. 1 in the field of commercial refrigeration technology.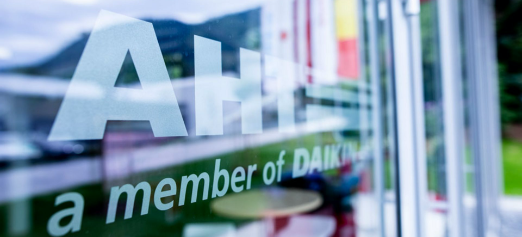 Get in touch
Do you have any questions about the AHT world of work or vacancies? We are available at any time to get in touch with you on: +43 3614 2451-0!
AHT Worldwide
With our worldwide production, sales, service and R&D branches, we have a first-class network with which we offer the highest level of customer orientation. But we offer a lot more: an international working environment and the opportunity to gain intercultural experience, to work with people and teams from all over the world and to further expand existing international networks.
Our locations
AHT Cooling Systems GmbH
Production, Sales and Service Europe & International
| Headquarter | Office location |
| --- | --- |
| Werksgasse 57 | Lemböckgasse 59/1/2 |
| 8786 Rottenmann | 1230 Wien |